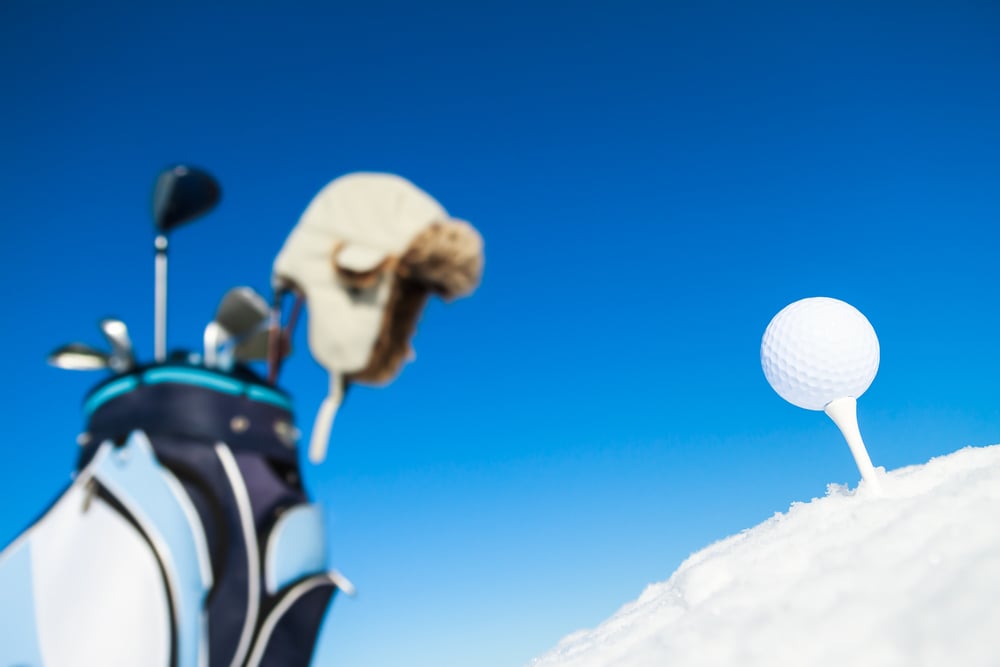 It's been a long four-year wait, but the Olympic Winter Games are finally back.
This year's edition of the Games is staged in Beijing, China, in February. There are 109 events in 15 different sporting "disciplines" with seven sports represented: ice hockey, curling, luge, biathlon, skiing, bobsledding and skating. The skiing, skating and bobsledding competitions are made up of multiple different events.
So, in short, there's a lot going on in such a short period of time.
We're big fans of the Olympics, and we also happen to be focused on golf -- which recently made its return to the summer Games (more on that later). Our love of the Winter Olympics, and golf, got us thinking about the similarities and connections between these sports and the game of golf.
As it turns out, there are plenty! The same principles and exercises we focus on can be applied to different sports in the Winter Olympics -- things like strength, stability, flexibility and more. Who knew, right?
A Closer Look at the Winter Olympics and Its Similarities to Golf
There's nothing better than playing a round in the freezing cold (kidding, of course). There are, however, other ways to stay active for when it becomes a little too chilly to hit the course. Interestingly enough, winter sports like ice hockey, curling, or even snowboarding can compliment your golf game in unique ways.
Ice Hockey
Skills in both ice hockey and golf translate over in a number of areas, just ask Happy Gilmore! Chances are, if you are good at one, you are probably good at the other (the rotary motion of shooting a puck is similar to the motion of swinging a club).
Typically, hockey players have shorter backswings with long clubs, resulting from their shooting technique (we'll have more in this in a future blog). Allen Doyle, a former professional golfer who played hockey in college, has a unique golf swing -- but it worked pretty well for him.
Curling
Curling may involve yelling and is more fast-paced, while golf is quiet and done from a standstill, but they seem to go together quite well. Some golfers even consider curling as their 'off-season' winter sport of choice, like BJ Neufeld, a professional curler and PGA Canada pro. In curling, a stone is thrown along ice and players sweep their broom to try and 'curl' the stone into a particular spot. Just like golf, curlers need total body strength and flexibility to be efficient on the ice sheet.
Curling may look simple from a spectator standpoint, but it actually requires more effort than you might think. To throw the 40-pound stone and sweep it across the ice, significant upper body strength is needed to get it where it needs to be. Curling also calls for strong legs, core and cardio in order to properly stabilize and balance across the ice.
Snowboarding
Snowboarding may seem like the opposite of golf, but the two sports have quite a bit in common. Both require significant hip rotation and core stability, as well as a strong mental approach. Having a mentally strong mindset and not letting negative thinking impact your game is huge, and at the same time, staying locked in and focused is imperative.
Remember when you first started playing golf? The learning curve was real and the same learning curve exists in snowboarding. It takes years of practice and many shanks to master hitting the ball right, just as it takes years to figure out how to ride the lip of a snowboard without turning into a snowball and tumbling down the slope.
A History of Golf in the Olympics
Despite making its long-awaited return to the Olympic Games in 2016, golf has an extensive history in the program.
The Olympic Committee included golf in the Games for the first time in 1900, when the competition was held in Paris (Le Golf National, site of the 2018 Ryder Cup, is also in Paris and will host the Olympic competition in 2024). Then, golf was part of the 1904 Games in St. Louis before falling off the program -- and it took quite a while for the International Olympic Committee (IOC) to change course.
What took so long? It's a great question, actually. Golf is one of the most popular sports in the world but it had a hard time getting back into the Olympic mix. Finally, in 2009, the IOC voted to reinstate golf for the 2016 Olympic Games in Rio de Janeiro, Brazil. Renowned architect Gil Hanse was commissioned to design a brand new golf course adjacent to the Olympic grounds, and it produced an exciting men's competition with England's Justin Rose out-dueling Sweden's Henrik Stenson in the final round.
The women's competition was close for three rounds, but South Korean star Inbee Park carded a final-round 66 to beat New Zealand's Lydia Ko by five shots.
With the 2020 Olympics postponed to 2021 due to COVID-19, the competition looked quite different than originally planned with limited spectators. American Xander Schauffele won gold over Slovakia's Rory Sabbatini, while in the women's event, Nelly Korda completed the American sweep of gold with a one-stroke win over Japan's Mone Inami.
Looking Ahead
Hopefully, you learned a thing or two from this blog. The connection between golf and the Winter Olympics is stronger than meets the eye, and we can't wait to see the best golfers in the world compete for gold again in 2024.