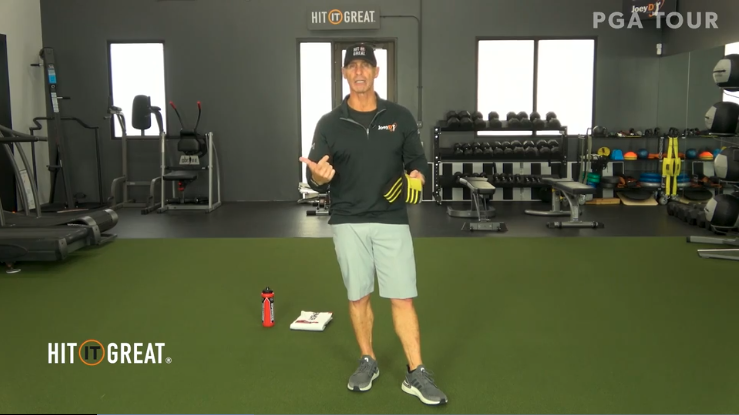 If you're a golfer living in the northern two-thirds of the country, this is a special time of the year. It's no longer dark at 4:30 in the afternoon, weather forecasts stop mentioning snow, and temperatures start to creep into the 50s and 60s. Winter is over and, well, it's time to hit some balls. But just because the calendar is telling you it's almost golf season, it doesn't necessarily mean your body is ready to hit the course. Fear not! Hit IT Great has you covered.
Shaking Off the Rust
Most of us usually have some rust that has to be shaken off before we're feeling like ourselves out on the course in March and April, but this year that layer of rust might be a little bit thicker. With COVID-related travel restrictions, most folks couldn't make their usual mid-winter golf jaunts to Hilton Head or Scottsdale. So, unless you happen to have a hitting bay in your garage, you probably haven't taken a full-power swing at a ball since the fall. If you think you'll just be able to "grip it and rip it" when you get to the first tee of 2021, think again.
The golf swing is an incredibly complex movement that involves just about every muscle in the body. To make sure that your early spring golf is more about fresh air and birdies and less about physical therapy and Advil, it's important that your body is prepared for the season. And if you've spent the past five months binge-watching Big Break and Feherty, we have a secret for you: your body probably isn't prepared for the season.
But even if you've been hitting the gym all winter, there are still going to be some things that won't feel quite right the first time you tee it up. And a lot of those things are going to center around balance, stability, and body awareness because, unfortunately, most people's workouts don't usually include golf-specific balance and stability work. (Unless, of course, they go to the gym with Coach Joey D's Fix Your Body, Fix Your Swing!)
Out on the course, you need more than just lower body strength. You need lower body stability. It's one thing to be able to squat or lunge with a lot of weight, but to be able to connect with the ground and create a stable yet mobile base is another thing.
Activating the Lower Body
One of the ways we like to re-introduce the lower body to the ground is with activation drills. These will wake up the muscles responsible for letting you maintain a solid base without any extra sway. A stable base will help your golf game in a bunch of ways. The more stable your lower body can be, the harder and faster you can swing and maintain balance. You'll be able to generate more strength and power, which means more mphs at impact and more distance. More stability also means fewer moving parts. Without extra movement at the knees or hips (or compensations in the upper body), there's a far better chance your clubface will be where you need it to be at impact. This will do wonders for your accuracy.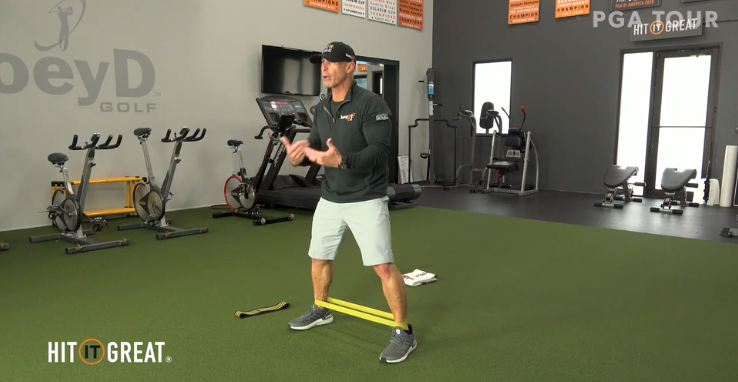 And that's just off the tee! Your short game will also benefit from a more stable base. If you've ever been faced with a tricky uphill or downhill lie, you know how challenging it can be to set up properly and execute a good swing.
The great thing about these drills is that you don't need a lot of space or equipment to be able to do them. The goal isn't to be able to leg press hundreds of pounds. The goal is to become aware of all the muscles of the lower leg, upper leg, and hips and to become familiar with how they feel during your set-up, your takeaway, at impact, and into your follow-through. Once you're aware of how these muscles need to function optimally, it's much easier to maintain a stable -- yet mobile and powerful -- base throughout your swing.
Stability Drills for Your Lower Body
Check out this video that Coach Joey D did for our friends at pgatour.com. Using just an inexpensive looped band, Joey D takes you through two lower-body stability drills that will have you feeling stable and anchored when you tee it up for the first time this season.
And when you're done with those drills, check out the free "No Equipment" workout that we're offering on the Hit IT Great site and the free eBooks we have available for download. They're a great introduction to the Hit IT Great platform -- the premier online golf fitness training program featuring the top three golf strength, conditioning, and biomechanics coaches in the game: Coach Joey D, Coach K-Wayne Tullier, and Coach Christopher Noss. Between them they have over 70 years of Tour experience and have helped players win over a hundred Tour events.
Your 2021 golf season is about to get underway. Let Hit IT Great help make this your best season yet!