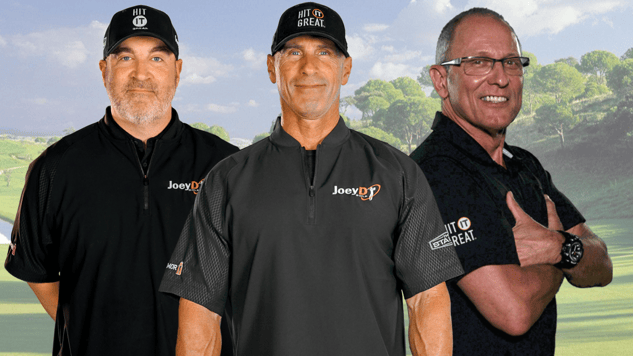 To be the best, you need to work with the best. In the culinary world, it means being in the kitchen with a Michelin-starred chef. In the film world, it means being on the set with an Academy Award-winning director. And when it comes to your golf game and your golf swing, it means working out with the top strength, conditioning, and biomechanics coaches in the sport. And that's what Hit IT Great is all about.
Hit IT Great takes the guesswork out of optimizing your body for the game of golf. No more searching through random videos on YouTube hoping to find the fix for your weak long game or your inconsistent short game. No more wasting money on training aids and gizmos promising "30 More Yards in 30 Days." With the Hit IT Great platform, you're getting Tour-proven and science-backed online workouts and guidance from three of the winningest coaches in the history of the Tour. And you're doing it in the comfort of your own home and you're doing it on your own time.
Last we checked, there wasn't a Mount Rushmore of golf fitness, but if there were, we know the first three heads that would be up there: Coach Joey D, Coach "K-Wayne" Tullier, and Coach Christopher Noss. Between them, they have almost 70 years of experience working with the best players on the men's and women's professional Tours. They've helped players hoist over a hundred championship trophies and collect the six- and seven-figure checks that go along with those trophies.
So, if the top players in the world trust their games to these legends of golf fitness, what's holding you back?
Coach Joey D
No one has done more to advance the concept of golf fitness over the past twenty years than Coach "Joey D" Diovisalvi. He's the only strength, conditioning, and biomechanics coach in Tour history to help take three players to the number one spot in the world — Vijay Singh in 2004, Dustin Johnson in 2017, and Brooks Koepka in 2018. He's seen regularly on Golf Channel. His books, Fix Your Body, Fix Your Swing and Hang the Banner continue to be top sellers. And his Joey D Golf Sports Training Center in Jupiter, Florida, has become THE elite training destination for players from all over the world.
"I get the most satisfaction when players I work with are able to kick it into that extra gear on the big stage with power and control. And do it consistently. That kind of physical ability only comes from their hard work and commitment to the work we do."
Coach Kolby "K-Wayne" Tullier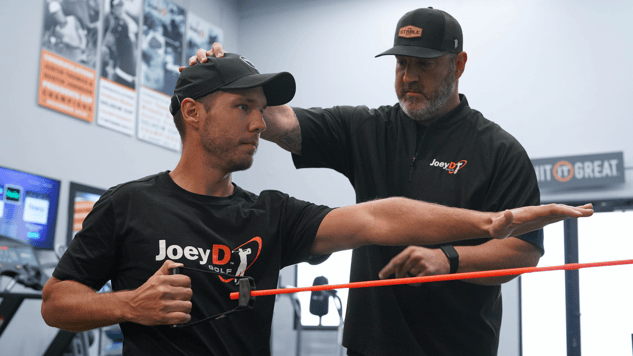 The hardest working man in golf fitness? Hands down, that's got to be K-Wayne. When he's not working with former and future world number one, Justin Thomas, he's in the gym or on the road with players like Lexi Thompson, Harold Varner III, Jessica Korda, and Lucas Glover. And when the Louisiana native isn't helping the best golfers in the world get better, he stays busy by keeping MLB All-Stars and NFL Pro Bowlers at the top of their games.
"The greatest satisfaction I get as a coach is the honor of being a part of the athlete's journey and seeing the passion and work that goes into each victory."
Coach Christopher Noss
You can't talk about the history of golf fitness without talking about Coach Christopher Noss. Coach Noss was in the Tour fitness trailer working on biomechanical assessments back when most players thought the trailer was only for massages and naps. Since he began working with Corey Pavin in 1990, Noss's players have notched over 50 wins including Pavin's US Open win in 1996, David Duvall's victory at the Open Championship at Royal Lytham & St. Annes in 2001, Zach Johnson's Masters win in 2007, and Stewart Cink's 2009 Open Championship victory at Turnberry. He's also been involved with both the US Presidents Cup and US Ryder Cup teams.
"My greatest satisfaction comes from seeing the progress of someone I'm working with. And it doesn't have to be a top pro. It's about a high handicap or an average player saying they've gotten better. It's about seeing them experience that 'A-Ha!' moment where, all of a sudden, things start to click."
Need more convincing?
To get a taste of what Hit IT Great can do for you and your game, check out Coach Joey D's free "No Equipment" workout to see what the best players in the world do to stay at the top. And don't miss out on our free eBooks also available on the Hit IT Great website.