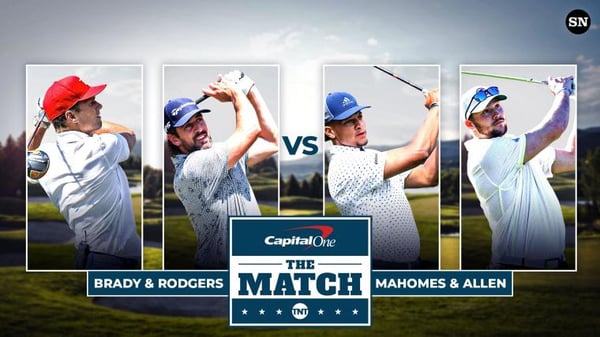 Capital One has announced the return of 'The Match,' a series of exhibition match golf played by celebrity athletes for charity; proceeds of the tournament benefit Feeding America, the American Red Cross, and the U.S. Chamber of Commerce Foundation.
The Match is a casual, (you guessed it) match play contest with a modified alternate shot format -- basically, each player will tee off and alternate play will begin with the best tee shot. It's unlike the typical golf round you would expect to see on TV. As founding father and Hollywood agent, Jack Whigham says, it is meant to be played "the way a lot of us play with our buddies over the weekend." Every golfer is mic'd up and the match is called by celebrity commentators.
For the first time, The Match won't feature any professional golfers. Instead, it will host a foursome of professional quarterbacks. Josh Allen and Patrick Mahomes will face off against Tom Brady and Aaron Rodgers over 12 holes at the Wynn Golf Club in Paradise, Nevada, just outside of Las Vegas.
We talked to our Director of Sports Performance, Coach Kolby Tullier, to understand why these guys are so good at this game – good enough to test their skills in a nationally televised golf tournament.
Two Rotary Sports Collide On the Golf Course
A rotary sport is any sport that requires a rotary motion, and the definition of a rotary motion is the act of rotation on an axis. So, let's look at football for example: when throwing a football, the quarterback makes a rotary motion around their body -- which is the axis. Golf is similar in that external rotation is required to complete the golf swing, just as it is required to hit the ball.
"When you make your backswing, there's external rotation that's occurring in your trail arm. It's the same thing with a thrower, I'm looking for external rotation in my throwing arm," Kolby said.
Like in golf, a quarterback must also have mobility: hip mobility, shoulder mobility, and thoracic spine mobility. Looking specifically at the hips, when a quarterback takes a step, hip mobility is required in the lead leg and external mobility in the trail leg.
When a golfer transfers weight to their lead side (left side for right-handers, and right side for left-handers), internal hip mobility is needed in the lead leg and external rotation in the trail leg. Lumbar stability and shoulder stability also play a big role in the order at which different parts of the body accelerate.
The Mechanical Actions For Throwing a Football and the Golf Swing
The sequence of motion for throwing a football consists of the legs, hips, shoulders, and throwing arm. Golf has similar sequencing in how power is transferred to the golf ball. However, the sequence starts from the ground up to the pelvis, then to the thorax, arm, and club. Improving overall biomechanics means an increase in accuracy and power.
"The sequence of motion for a thrower is a lot like the golf swing, and I think that's why they gravitate toward the golf swing, and enjoy it as much as they do," Kolby said.
"They can emulate the things that they're doing on the field, and it kind of has the same traits as a golf swing."
Want to watch?
While this group of athletes typically specializes in slinging the pigskin, they're all avid golfers. In fact, this will be Rodgers' and Brady's third time playing in the series.
As for Josh Allen and Patrick Mahomes, this will be their first time in the event – but it will be Mahomes' second time playing the course. He also participated in the inaugural 8AM Golf Invitational at the Wynn Las Vegas with Kansas City Chiefs teammate, Travis Kelce.
Allen played in the PGA tour's AT&T Pebble Beach Pro Am in February 2022. Brady, who played alongside Phil Mickelson in last year's event, has been talking smack with Allen on Twitter, so it's going to be a good time!
You can watch the showdown at 6:30 p.m. ET June 1st, only on TNT. And if you'd like to contribute to Feeding America cause, you can help out here.