1. Remove the extra parts from your golf swing
2. Increase accuracy off the tee and on the fairway
3. Increase stability on uneven lies
I recently blogged about the Golf Magazine cover story that talked about the non-traditional training relationship I have with Dustin Johnson and Brooks Koepka. Generally, a strength and conditioning coach doesn't go rep-for-rep and insult-for-insult with the guys he's working with, but when the three of us are in the gym together, we force each other to become better. The teamwork strategy seems to be working; DJ and Brooks are currently numbers one and two in the world.
Teamwork Works on Many Levels
If you were to stop by the Joey D Golf Sports Training Center in Jupiter, Florida, you'd not only see Tour Pros, but players of all levels working on their strength, stability, and golf-specific movement patterns right along side of them. Just like it works with me, DJ, and Brooks, the teamwork-feel challenges us all to work harder and become better.
And speaking of teamwork, I am not a one-man show. We have a number of coaches at the facility. The glue that's been holding them all together for the past couple of years is the brilliantly talented Kolby "Coach K-Wayne" Tullier.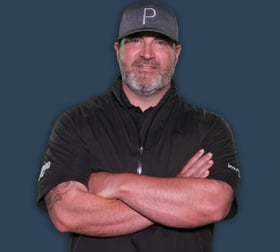 Getting the Most Out of Professional Athletes
I've been on the Tour since 2001 and I've met a lot of golf fitness professionals along the way. A few years ago, I met Kolby. K-Wayne has been getting the most out of professional athletes in #TheStable for over 15 years. His philosophy and track record so impressed me that in 2016 he joined our team as Director of Performance at Joey D Golf Sports Training Center.
You can't argue with the results that K-Wayne has gotten out of players like Justin Thomas, Lexi Thompson, Harold Varner III, Michelle Wie, and others.
Under his coaching, Justin Thomas not only ended up winning the FedExCup in 2017, but he also held the top position in the world before "plummeting" all the way down to number three. And when -- not if -- Lexi Thompson takes over the top women's spot in the world, it'll also be due in large part to K-Wayne's skill and expertise.
Climbing the Ranks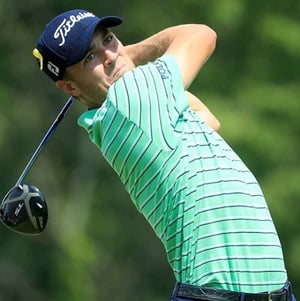 Justin Thomas finished 2014 as number 122 in the world, 2015 as number 37, and 2016 as number 22. He closed out 2017 in the top-five at number three, but -- more importantly -- won the FedExCup and was named Player of the Year. In May of this year, he took over the top spot in the world. So, what changed? What let him jump 100-plus spots in just a few years while amassing a nice collection of hardware and a $10 million FedExCup check?
Under K-Wayne's training protocols, JT has gotten a lot stronger and a lot more stable. The result is a lot more power and a lot more consistency. And that consistency isn't just off the tee; it's also in his short game. A lot of it has to do with stability.
If you're a student of the golf swing, you've probably run into the word "rotation" about a million times. The more powerfully and properly you can rotate through the hips and around the spine, the more potential club head speed you can create. Increase your club head speed at impact and you're looking at bigger drives and greater distances.
To Rotate, or to Not Rotate?
The ability to control rotation and reduce unnecessary hip movement through your takeaway, backswing, and into your downswing will remove a lot of potentially harmful extra moving parts from your swing. There is no better way to improve accuracy than by reducing extra movement. It'll help off the tee, on the fairway, and when you're faced with an uneven lie.
Check out the video below to see a anti-rotation sequence that K-Wayne uses with Justin Thomas to stabilize and strengthen the muscles that both create and prevent spinal rotation. Add these moves to your regular gym routine and see how quickly you feel even more stable out on the course and how much more accurate you are with every club in your bag.
Most people don't consider golf a team sport, but at the Joey D Golf Sports Training Center we know better. No player -- from the first-time golfer all the way up to the number one golfer in the world -- can improve on their own as fast as they would with a team of knowledgeable and supportive coaches, club-fitters, and other players. Next time you're down in the Jupiter area, come on in and meet our team.
UPDATE:
We're proud to announce that Coach K-Wayne is also now featured as Fitness Editor of Golf Magazine / Golf.com. Check out his first feature here.
© joeydgolf.com 2020